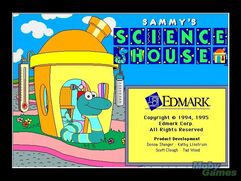 Sammy's Science House is a 1994 computer game by Edmark.
Here are the games be completed.
Workshop - Construct toys and machines. Follow a blueprint or make your own creativity design. Paint and print your creations.
Acorn Pond - Investigate plants and animals as they adapt to seasonal change. Print a Field Notebook with interesting facts for our future reference.
Weather Machine - Manipulate weather variables. Listen to the weather report and watch those animations illustrating the weather you've created.
Sorting Station - Sort pictures into categories with the help of friendly bins. Hear the names of plants, animals, and minerals.
Make-a-Movie - Arrange pictures in sequence to make a movie. Play your movie fast or reverse.